Summer Sport sign‐on is NOW OPEN!!! 
Students can sign up to Cricket, Golf, Lawn Bowls, Tennis, Ten Pin Bowling (Year 10 to 12 ONLY), Table Tennis, Touch Football, Volleyball or Surfing, with the competitions kicking off on Wednesday 17 Feb and running for 6 weeks. SIGN-ON CLOSES Monday 1 February at 3.00pm.
Students can also sign up to Rowing (which is an all‐year‐round sport) in addition to one Summer Sport.
TO SIGN UP;
Students log into Student Café > Extra Curricular and select the sport they wish to participate in. Parents then get an e-mail notification to confirm/approve the activity.
OR
Parents can log into Parent Lounge >Extra Curricular and Sign-On and Accept their Child's Summer Sport Activity directly.  *Parents please make sure you select the right student for the right sport.
Please make sure the "Submit to School" (green button top right of screen) has been clicked once the activity has been selected. See screenshot below.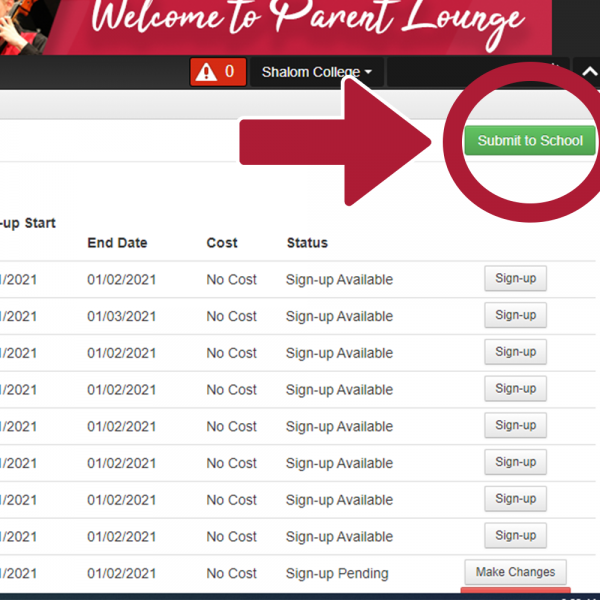 The only Summer Sport that has a cost attached is Tenpin Bowling (for Summer Sport this is only open for Years 10-12).  The cost is $12.50 per week.  All other Sports are free for Shalom students to play.
You can only Sign up for ONE Summer Sport, however you can also choose to do Rowing (which is an all-year-round sport) as well.  Rowing has a cost involved as it is the ONLY school sport that is run in conjunction with a Club (ie Bundy Rowing Club).  The cost is $200 for half year or $350 for Full year.
Please be mindful that if you sign up for a Summer Sport, it is your/parents responsibility to get to and from the sport each Wednesday after school.  The only exception to this is Touch Football, where the College Coach makes two runs out to the Touch Fields to drop students off (no return runs back to Shalom).  We have several hundred students compete in afterschool sport and we cannot bus everyone, everywhere.